CABLE, WI SKI & BIKE IN/OUT TRAILSIDE LODGING
Start Line Inn welcomes you to enjoy 4 Seasons in the Woods in our luxury cabin rental and coach house multi-purpose team room in Cable, Wisconsin.  Lodging with Ski in/out and Bike in/out access to Birkie ski trail and CAMBA mountain bike trails.
Our cabin rental is a rare gem in Wisconsin's Northwoods with attention to detail and meticulous craftsmanship.  Lodging designed with the needs of active guests and families in mind.  The space is open and gracious with high vaulted ceiling and picture windows that overlook the Birkie Trail and forest.  The cabin walls were built using reclaimed wood, helping us stay Green.
Start Line Inn cabin rental can accommodate 4-8 depending on guest preferences. 2 full beds with privacy curtain, sleeper sofa, loft space with full-sized futon and day cot at entry. Guests have exclusive use of heated and well-ventilated wax hut just out the door with 2 benches, ski and gear storage and Bluetooth radio.
The Coach House is a loft studio space. Flexible design allows arrangement of space to suit your needs. Beautifully finished with fine craftsmanship. Sit on the balcony with a book and coffee or glass of wine. Plenty of gear storage. Multiple amenities: WiFi, Smart TV, central heat and AC. The flexibility of the loft space is perfect for merging training and getting a good night's sleep.
SHOW YOUR SILENT SPORT SPIRIT!
Now Available
Click To See More

We pledge to donate 10% of proceeds to organizations working for social justice & racial equity. Click to Learn More

for your every need
in Men's and Women's sizes
Click to See More
Hover and click on images above to learn more about custom gear from Start Line!
"Why the "Start Line Inn?" Because the Birkie & CAMBA Trails Start RIGHT there!"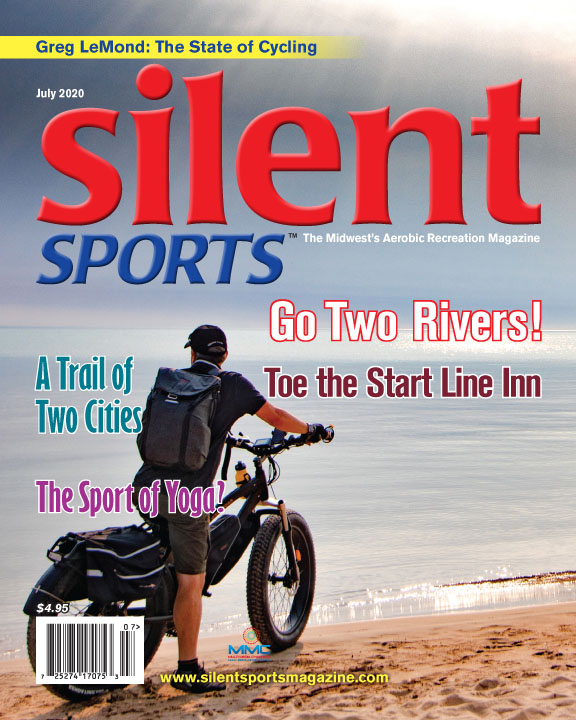 Heated & air conditioned
Gourmet kitchen with all cookware, serving items & dishware supplied
Complimentary coffee & tea
Full bath with tub & shower
Basic toiletries
Sleeps 4-8
Linens
Wireless internet
Smart TV, Wifi enabled
Laptop friendly desk
Ample storage & closet space
Ski & bike in/out
Parking at entry for several vehicles
Hosts available for guest needs
Exclusive use of wax hut with secure storage
START LINE SERVICES on site providing Bike & XC Services & Retail
Coach House, with sleeping quarters & bath, available at additional fee
NO SMOKING
Dogs are Welcome, please discuss with hosts for details
OUR STORY
Elizabeth Holland & Michael Choate invite you to join us. We recently retired and are embracing this new adventure as innkeepers in the North Woods.
Michael is a retired Chicago firefighter. Elizabeth is a retired diagnostic radiologist. Michael is a veteran competitive XC ski and bike racer. With 30 + years skiing the Birkie, classic & skate, he is a proud Birchleggings member. Elizabeth is a relative newcomer to these sports & brings a beginners enthusiasm to these endeavors.
read more
Very well stocked for an out-of-the-way bike shop. Prices are very reasonable and Mike and Elizabeth are very helpful in helping you pick out everything you will need for your biking experience. Highly recommend!

Dena

"The Start Line Inn Cabin is truly a special, quaint place to stay any time of the year! We have been there in summer and winter and love the location of the cabin, near the trails where we play and love the small town feel of Cable!"  Colleen

"Elizabeth and Mike are amazing hosts. They offered us great local advice and tuned up the bikes for the race. The space had everything we needed for 9 guys and lots of gear. Perfect location.  We'll surely be back!"

Scott

"Repeat stay, another perfect experience. Stylish, sharp, clean, convenient, and location/location/location!"

Thanks for all the help on the Jones bike.  You don't charge enough for the great work you do.  Lucky to have you up here.

Jeff

Thanks very much for a fantastic wax job and for all your help this year! I am on the steep part of the learning curve in all things Birkie and it was a great weekend! I had a great race and am trying to decide between another Korte and hopping up to a first Birkie! Thanks again!

John
SKI & BIKE SERVICES
START LINE SERVICES
We offer the only bike & ski repair shop in Cable, Wisconsin!
Bike & Ski Shop located at the lower level of START LINE INN, the cabin rental.
On the Birkie Ski Trail & CAMBA mountain bike trail.
As a former competitive XC ski and bike racer, Mike brings a competitor's sensibility to his bike and ski service and the sincere desire to help his clients perform at their best. Mike draws on his 40 years of experience, having previously worked in XC & bike shops in
the Chicagoland area.
Full service shop
Decades of experience
Bike & XC ski
Ski or bike in/out
Any & all types of bikes
XC wax & related items
Personal attention to FIT, bikes & skis
Parts & accessories for sale
Logo clothing
CONTACT INFORMATION
Please be our guests, or contact us with any questions!
Start Line Inn / Start Line Services
14795 McNaught Rd
Cable, WI 54821
Email: startlineinn@gmail.com
Phone 
ELIZABETH HOLLAND – START LINE INN (lodging)
Call or text: (312)363-9823
MIKE CHOATE – START LINE SERVICES (bike/ ski services)
Call or text: (773) 991-5944